PICTOGRAPHS

Some of the first forms of writing were pictographs. Pictographs did not originate with a phonetic base, Their creation was far more primitive. Rather than have a symbol which stood for a phonetic sound, each symbol stood for an actual word. Many of the symbols were created as illustrations of objects or the actions they stood for.

Because of having such a primitive base, pictographs had little or no chance to develop into a complex writing system. Much of what was written could often be misinterpreted. Authors could not use colorful phrasing. Everything had to be written very basically.

Eventually, some cultures applied the sounds that each pictograph began it's pronunciation with as it's phonetic value. For instance, A pictograph of a bird would stand for the "B" sound. Linking pictograph's together created words - Elevating the characters towards a true alphabet.

The reason I have not included early pictographs in this book is because I would have to include far too many pages of them in order for it to be useful for you. If I were to even limit the pictographs to the very basic ones, your adventures would have to evolve around what pictographs I made available.
EGYPTIAN HIEROGLYPHIC ALPHABET
Even though there is no one alive today that either speaks or writes the Egyptian language, E.A. Wallis Budge used "The Rosetta Stone" and the works of Samuel Birch (author of the first Egyptian dictionary) to devise this phonetically based Egyptian alphabet.

CHINESE CHARACTERS
Also derived from pictographs is this version of simplified Chinese Characters.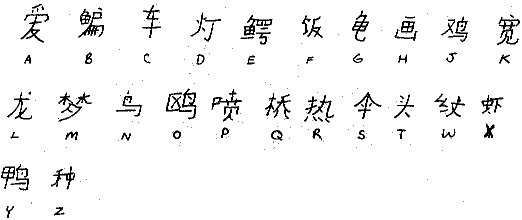 MAGICAL SCRIPTS
These next scripts were said to be used in the writing of spells and some even used in ceremonial acts.
OGHAM ALPHABET

Ogham (or Ogam) also known as "The Tree Alphabet" was the earliest form of Irish writing. At the funerals of dead heroes, Ogham was used to carve their name on a staff made of aspen or hazel wood and then was placed in the coffin with them.

(Though the TTF above can not easily support this, Ogham was written from bottom to top along a continuous line)
ALPHABET OF DEMONS

ALPHABET OF THE MAGI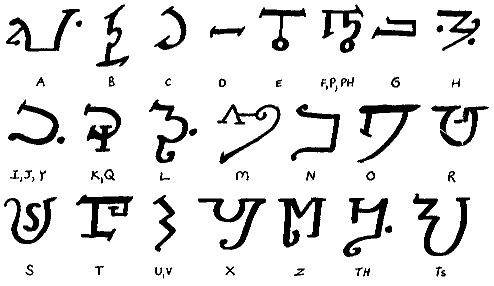 APOLLONIAN ALPHABET
Thanks to Daniel U. Thibault for this font!

ENOCHIAN ALPHABET

THE ALPHABET OF DAGGERS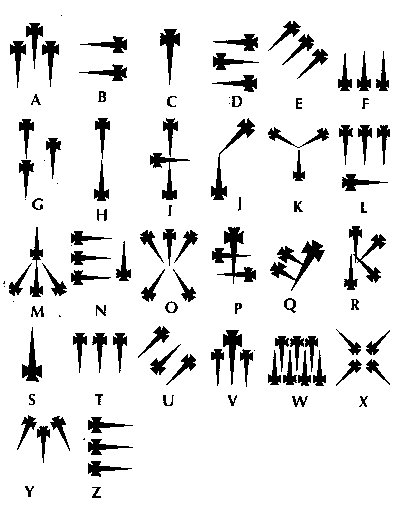 THE ALPHABET OF NUG-SOTH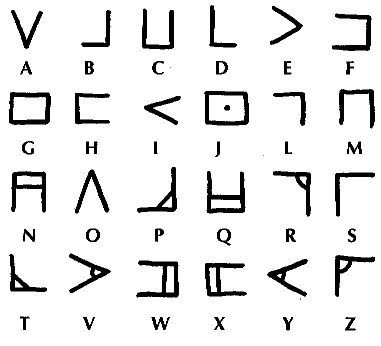 MASONIC/ROSICRUCIAN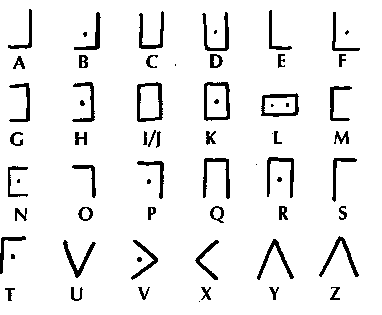 ---
Use the arrows below to go to the next page
© 1992 Dino Manzella Copyright Registration # TXu 540-165 All rights reserved.