---
UGARITIC ALPHABET

For civilizations near river valleys of the Near East, Clay was the most suitable material to write upon. Clay can easily be worked into a flat shape. While moist, it can be scribed with a pointed stick or reed, and if left in the sun to dry, it could be easily moved and have considerable durability. This Ugaritic alphabet was developed through the stick in clay method.

AMERICAN BRAILLE ALPHABET

MOON
This "Moon" alphabet is actually a braille alphabet. Moon letters are made of raised shapes that are based on the standard alphabet. This alphabet is named after its inventor Dr William Moon, an Englishman who devised it in 1845.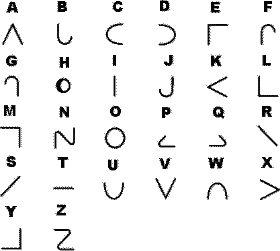 PHOENICIAN ALPHABET

EARLY GREEK ALPHABET

CLASSICAL GREEK ALPHABET

SANSKRIT ALPHABET


(This alphabet reads from right to left. Also, The horizontal line above each character runs as a constant through each word).
---
Use the arrows below to go to the next page
© 1992 Dino Manzella Copyright Registration # TXu 540-165 All rights reserved.