Stuck in frames? Click here to open a new browser with this page.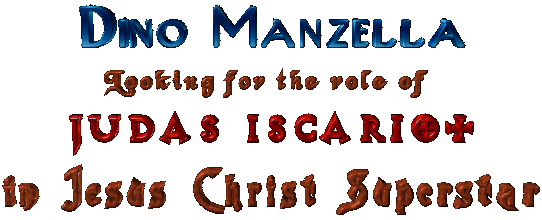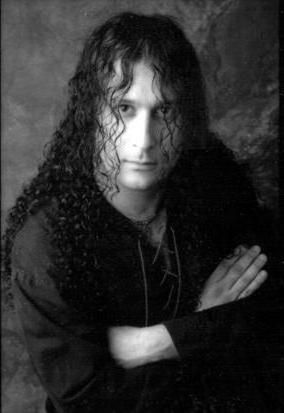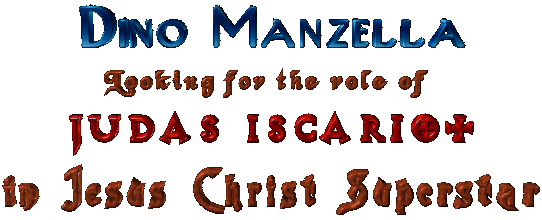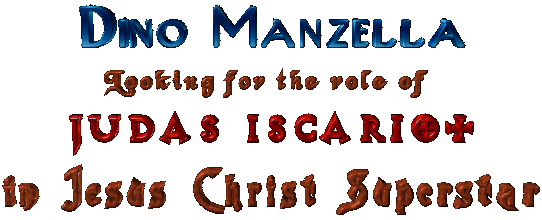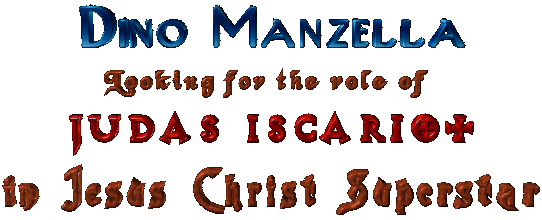 ---

Introduction:
Q: So what's this page all about?
A: I'm looking to perform the role of Judas in Jesus Christ Superstar. Do you know of any productions going on? (local or non-local) I might be willing to travel depending on the situation.
Q: What else is there to know?
A: All you could ever want to know can be found below.

Sounds
MP3 - Heaven on Their Minds - Traditional Version
REAL AUDIO - Heaven on Their Minds - Traditional Version
MP3 - Heaven on Their Minds - Dance Mix
REAL AUDIO - Heaven on Their Minds - Dance Mix
These next two mixes are kinda odd, but worth the listen.
Heaven on Their Minds - Drum Loop mix 1 (heavy guitar)
Heaven on Their Minds - Drum Loop mix 2
As you can see I have several versions of the same song because I love all kinds of music. The only kind of music you will not hear me doing is country.. YUCK! Hmmm a country version of Jesus Christ Superstar!.. What an awful thought!
I am looking for other versions of Heaven on Their Minds, If you have done a version of it yourself, I'd love to trade a cassette of all my mixes for one of yours.
Actually, I have the first show I did doing Annas on video tape.. It's actually a very good production. Our theater company hired a video production crew to come in and do a dual camera recording. I would be interested in trading a copy of this for other productions of the show. Let me know what you have, you might be surprised!
Updated Email address: Email me here
Or hit me up on Facebook: https://www.facebook.com/afternight

Resume:
| Name: | Dino Manzella |
| --- | --- |
| Race: | 100% Sicillian |
| Hair: | Brown |
| Eyes: | Greenish Brown |
| DOB: | 11/29/65 |
| Height: | 5'5" |
| Weight: | 135 lbs |
| Fav Animal: | Dog |
| Fav Musical: | Umm.. JCS? |
1978 - 1987 Played in bands throughout the Chicago music scene.
1987 - 1992 I opened and operated a recording studio in the basement of my home in Mt. Prospect Illinois.
1988 - I graduated first in my class at ETC Music, (and was actually offered a position within the company before I finished the schooling.)
It was at this time that I started to give free seminars of "How to get your band signed" to prospective clients of my home studio. One of the reasons I believe that I was able to survive with a HOME studio with all the commercial competition, was because of the seminar. It gave potential clients a chance to meet and talk with me. Through this they were able to see that they could come out with a professional sounding demo.
1988 - 1989 Worked on the staff of the Chicago Rocker Magazine.
1988 -1990 Worked with a local radio station called "G-Force". I made all their station ID's and many of their commercials in trade for airtime.
In 1989 I funded and released a compilation project of 30 local bands in the Chicagoland area and distributed it worldwide through ad's in "Fanzines" (fan written magazines).
1991 - 1993 I became part of the writing staff of Windy City Rocks and Intense Magazine.
In 1992 Again I funded and released a compilation project of local bands This time performing Christmas music, as a benefit for the homeless people in Chicago.
October 1992 - January 1995: I moved my home studio to a Chicago location and became a co-owner of Bad Dog recording studio's. (Bad Dog consisted of two fully equipped analog studio's, one digital suite and a video department).
January 1992 - October 1994: I taught classes on recording and microphone placement techniques at my Chicago studio. It helped keep a steady flow of new clients through the studio, as well as establish myself as a credible engineer and producer. (For the class I spent extra hours constructing a text manual so that my students could follow easily).
1992 - 1994 I wrote a book called "Forgotten Scripts". The book is now online at http://www.afternight.com/runes/
In November 1993, I acquired a large building of 18 rooms in a Melrose Park Illinois business district. I rent these out for musician rehearsal studios as well as offices for music related businesses.
In the summer of 1994, I performed in Jesus Christ Superstar at the Hemmens auditorium in Elgin Illinois. This was my first musical ever. I was given the role of Annas. I chose to sing all of the parts in full voice, no falsetto :) My vocal range in full voice climbs to "High D"
In the summer of 1995 I again performed in Jesus Christ Superstar, this time playing the role of Judas. (The show was to benefit the aids foundation). I performed it with a friend of mine named Tony. He's in a band called 7th Heaven. Check them out, they have some really great hooks in their songs.
In early 1995 I indulged heavily in acquiring computer knowledge. I then put up my own music domain site on the world wide web. My domain address is http://www.afternight.com
In May 1997, I helped sprout a new Chicagoland music magazine publication called "Backstage Pass".
In 1997, "Musician Magazine" wrote a little blurb about "afternight.com" in their "Musicians Guide to Gigging" issue. Since then, my music site has been getting an average of 4000 requests per day making itself a formidable presence on the net.
Alas I have become a geek. Many weekends when I am not working with bands you can find me playing computer games like 7 Days To Die on the Afternight server.

Pictures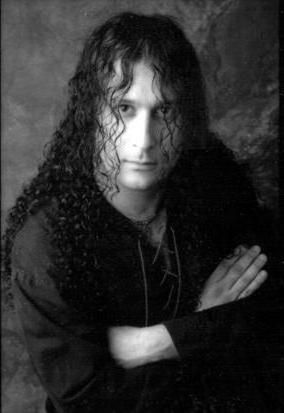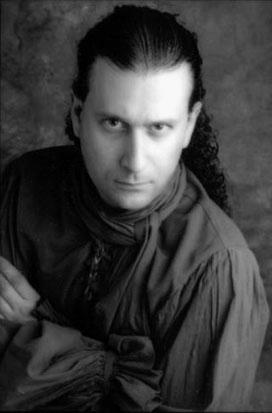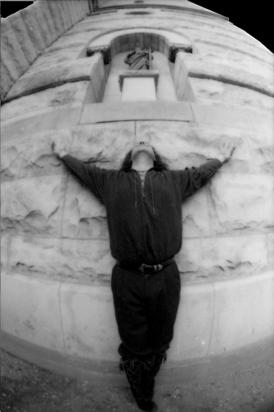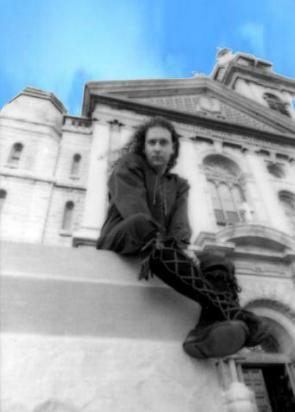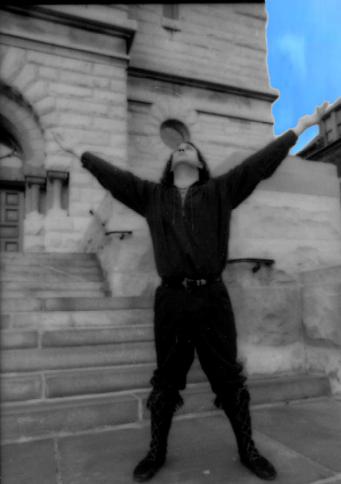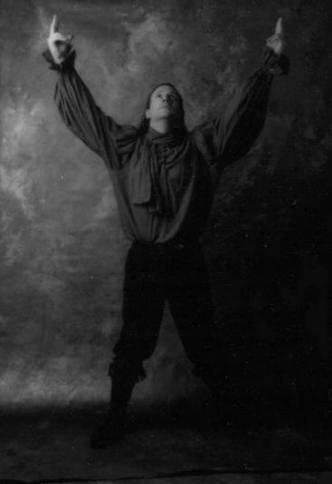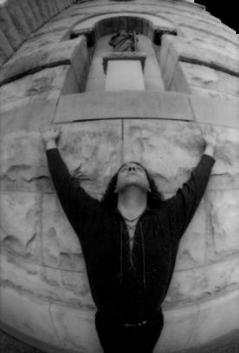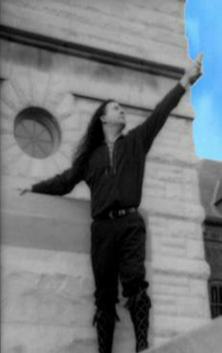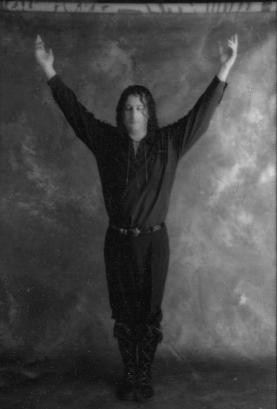 Contact Information
Dino Manzella

Dino.Manzella(noSpam).judas@gmail.com
---
©1998 Afternight Productions